We are happy to announce the following 2023 Ayurveda School scholarship winners. Thank you for all your soulful and love-filled participation. We deeply appreciate all of the honesty and effort poured into the submissions. Our team watched every single video sent and felt truly inspired by many! Without further ado, below are some of the recipients of this year's 2023 winners and their testimonials.
Rosa Rodriguez | Austin, Minnesota | @brujabonita_

"Hola! My name is Rosa, born and raised in Texas, but have made Minnesota my home for over 20 years. My roots come from a Mexican decent, both my parents and older siblings were born and raised in Mexico and I couldn't be more blessed to have that fire running through my veins. I found Ayurveda very interesting because all of the wonderful approaches to healing oneself through natural medicine and not a one size fits all kind of scheme. I grew up where folk medicine is a traditional way of healing and finding remedies through nature is very common (mind, body & soul). I truly believe this knowledge will add so much more to my current lifestyle and most importantly help me, help others, in finding their way of healing for their own bodies (physically, mentally and spiritually). I also plan on finding ways to incorporate both Ayurveda and folk medicine together to help not only continue my healing journey, but guiding others looking for alternative ways to western medicine. Ayurveda adds so much consistency to my ~Bruja Bonita~ creation and leads me to wholeheartedly believe I am on the right path. I am completely over the moon having received this scholarship for Shakti School and my heart is filled with gratitude! Thank you so much for this opportunity! Para siempre agradecida."
Gretchen Clore | Indiana | @gretchenlouiseclore

"Originally, I was led to Ayurveda via my past yoga teacher trainings. I wanted to study Ayurveda more in-depth, but it took me nearly 3 years to find a school/program that felt right for me. I found The Shakti School through Brett Larkin and Nicole Foos. After listening to Katie's Spirit Sessions podcasts, I was hooked!  This program is a perfect fit for my lifestyle as I teach yoga part-time, recently remarried, and am a bonus momma for an 11-year old girl who is involved in lots of extracurriculars. 
I was worried about "fitting in" because I am 56-1/2.  The study of Ayurveda appeals to me more than ever now because it is helping me navigate the menopausal years in a more natural and compassionate way. As a vata dosha type, I have all of the tendencies: anxiety; dry skin, hair, tongue; cold hands/feet, fast walking, love of travel, hatred of being in one place, doing too many things at one time, understanding concepts immediately but then forgetting them just as easily. My natural tendencies impacted my experience of menopause by disturbing my already-fragile sleep.  I'm happy to report that I'm finally in a place where I can slow down and really lean into this experience. My tribe is helping me to remember that Love is Strengthening Me, and Self Doubt is Weakening Me. As I inhale, my mantra is "Stay in my heart"; as I exhale, my mantra is "Live less in the mind".
Thank you Shakti School for believing in me and giving me this incredible opportunity to be situated in the truth of who I am."
Julee Davidson | Michigan | @juleestar
"Hi my name is Julee Davidson and I can't begin to explain how grateful I am to have been chosen for a partial scholarship with The Shakti School. The unconditional love and support that this community of women has given to not only myself but to thousands of women throughout the world is both amazing and awe inspiring!  
For years I have suffered with migraines and intestinal issues along with being scattered and unfocused, but thanks to Ayurveda and the Shakti School I am completely healed, not only of physical issues but my life has opened like a beautiful lotus flower to living a spiritual life full of beauty and purpose. 
My goal is to transform others' lives like I was through the Shakti School with Katie and all the wonderful teachers we had. This experience continues to hold that sacred space for me!  Om Shanti Shanti Shanti"
Taylor Iverson | Canada 

"My name is Taylor and I come from a small town in Northwestern Ontario. Like many, it was Yoga that sent me on a journey to travel and search for the deeper roots of this wild reality we call life. I first dabbled in the wisdom of Ayurveda during a yoga course and knew I would one day return to it. Shakti school has been beyond what I could have imagined, making the ancient teachings so accessible to us 21st century women. I'm currently living on the west coast of Canada, a student of creative writing at Vancouver Island University and Yoga Therapeutics at Ajna Yoga Centre. My hopes are to be able to use my voice, both on paper and with clients within my community to help resurface the nature-knowledge that is timeless. It's been just short of a decade since I've first embarked, and the change that's happened in that time, within mainstream health's openness and confidence in these practices, is amazing."
Katricia Kelly | Las Vegas, Nevada | @katriciakellyyoga

"I am a San Francisco native that has made Las Vegas her home for the past 28 years.  I love the desert landscape and its scenic views.  If I could hike every week I would as the mountains bring me so much peace and calmness.  But, when the trail isn't available, then you can catch me hanging out with my cute little dog Tazzy or inside of a yoga studio.  Either taking a class or teaching one.  I'm also a huge foodie and love supporting my local restaurants. I've been a yoga teacher since 2015 and I can honestly say that achieving this goal has been one of my biggest accomplishments.  I feel that combining Ayurveda with yoga will benefit my students even more.  They both look at the human being as a whole.  They compliment each other and would be beneficial for self healing all around.  I would love to incorporate workshops and private sessions for the Las Vegas community.  Offering a complete package of love & wellness!" 
Leanne Warren | Massachusetts | @lwarren05
"Hi 🙂 My name is Leanne Warren and I am from Littleton, MA! I am truly so grateful to The Shakti School and the scholarship program for giving me the opportunity to learn and grow. Being a part of this Ayurveda community and being introduced to so many people across the world is truly a beautiful thing that is hard to put into words. I have to give a huge shoutout to Nikki Nie, a Level 1 Shakti School graduate who is now enrolled in Level 2, who introduced me to the world of Yoga, Ayurveda, and loving myself first. Finding Nikki and this path has put me on such a divine journey of self-healing, self-love and exploring knowledge.
I knew that 2023 was the year that I would expand my mind and gain knowledge in so many fields that I love. I am here to learn more about the overarching beauty that is Ayurveda, what it means, how to use these practices, and how to balance myself first before I apply that knowledge to others. Maybe this course will bring me to the work of helping and healing others but first I need to help and heal myself. Whether I share this knowledge professionally or personally, these Ayurvedic tools will always be a constant in my life. It really is such an honor to be taught this sacred knowledge and I know The Shakti School will only push me closer to the life I want to live!"
Fanny Akasha | Berlin | @fanny.akasha

"My name is Fanny, I am originally from France, based now in Berlin for many years. I used to work in a marketing company for many years, until I finally found the courage to quit, as I could feel it was not fulfilling me, I was very stressed and at the same time I got diagnosed with endometriosis, and had to do a surgery.
I needed to change some things in my life, and I also refused to take the pills that would suppress my menstruation. So I had to look for alternative ways to heal myself. The practice of yoga has helped me a lot and through yoga I discovered Ayurveda. I discovered Katie  two years ago and was dreaming of joining her training as I am a big fan of her teaching. Also, the feminine approach to Ayurveda really resonates with me. 
I am teaching yoga in Berlin, but the yoga scene here is very competitive and hard to live only with yoga teaching, i was combining it with working in a restaurant. Then I had an amazing opportunity to volunteer in India in an ashram and improve my yoga teaching.
Now I am back here with the huge luck of being part of Shakti School and I am developing a yoga and ayurveda coaching for women who suffer from endometriosis. I am trusting that it will work. I can already integrate the teaching from the shakti school into my life, my relationship, my works, I am so grateful. Thank you!"
Michelle Taylor | Dorset, UK | @michellemaslintaylor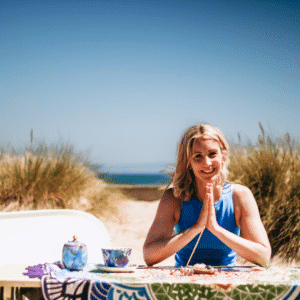 "I'm a yoga and reiki teacher based in the UK. Ayurveda is something I've felt called to study more for some time but all the training and books I came across were really prescriptive and didn't feel at all flexible or easily applicate to modern life as a busy yoga teacher and mum of three - I felt like I had failed before even getting started. Enter Katie! I just love her approach to Ayurveda, simplifying and taking what you can without guilt over not "doing it all perfectly". My mission is to support stressed out, burnout yogis for whom yoga alone is just not enough to create the balanced nervous system and healthy body and mind they crave. I see an epidemic of burnt out yoga teachers who are running themselves ragged running from class to class without nurturing themselves. My vision is to see these teachers including Ayurvedic principles and rituals to support them in a way that can work with their schedules and support their own health and wellness while they hold space for others." 
Leighton Murphy | Chile | @leighton.shea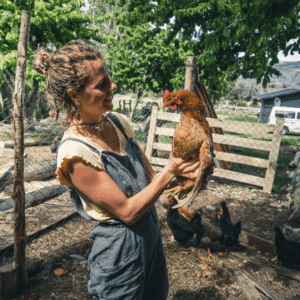 "Hi, my name is Leighton Murphy. Born and raised in Portland, Oregon. The twists and turns of life have led me to the Chilean Patagonia, which I have called home for the past six years. I dedicate myself to growing my food, tending to our animals, raising a resilient child, and being a Health Coach. My motivation to grow my own food sustainably comes from a love for this marvelous and generous planet and this body I have been blessed with. I am fascinated by learning how to best nurture it in a sustainable way that cycles with the seasons and with us females. My coaching currently focuses on helping women return to the magic of cooking, fermenting, and locally sourcing their food. I plan to continue to Level 2 Ayurveda School after this year and become an Ayurvedic Health Consultant. My true passion within all of this is the sacredness of childbearing. I aspire to one day have a thriving practice as an Ayurvedic Practitioner, focusing on holistically nurturing and supporting Mamas, before, during, and after pregnancy."
Irene Díez| Spain | @irene10yoga
"My first encounter with ayurveda helped with some digestive issues that were bugging me for a long time, it was such a simple yet effective solution that I got hooked and wanted to learn more. Fast forward quite a few years... during my recent pregnancy but most profoundly during postpartum, ayurveda has been a key practice to bring myself back to balance. I've been craving community, ancestral knowledge, and support. I feel that in our western culture this has somehow got lost... It's my deepest desire to bring this wisdom and intuitive approach to mamas and babies, especially during postpartum because let's be real, the fourth trimester it's just not enough! I'm also super lit up to share with my yoga and movement community. Feeling lucky and blessed to be part of this, thank you!!!"
Jasmine Jelsema | West Olive, MI | @jasminejelsema & jasmineapothecary.com
"It feels so amazing that I have already put some of my ayurvedic wisdom into practice. A few of my friends have told me that certain information I have shared just seems to stick. Ayurveda makes sense and as I explore more profoundly, I notice that so much of the ayurvedic teaching is solidifying my own internal wisdom. It is like the universe is confirming my intuition, "you are right".  There is so much that I want to do/ can do with my Ayurveda Education. Currently, I am a reiki energy healer, yoga teacher, and artist. I also work as a creative learning associate at an art museum and a writer for a local blog. After studying Alternative Medicine at Evergreen State College. I discovered a deep passion for teaching at an outdoor nature school. Initially, I plan to continue to incorporate ayurveda into my reiki sessions. It has helped me to gain more knowledge and be introduced to vocabulary that is conducive to my healing sessions. In the future, I plan to offer health coaching services and create holistic courses inspired by ayurveda and reiki."
Mahashweta Sengupta | India | @learning_with_missmaha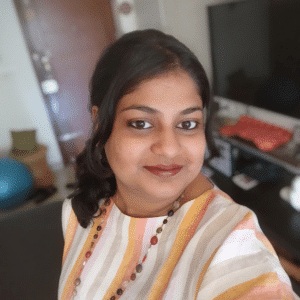 "Hi there, beautiful people, Namaste! I am Mahasweta Sengupta, a passionate school educator and trainer with over 9 years of experience in the world of education! I am currently living in India! I started off as a French language specialist and slowly took up responsibility and became a lead teacher and now I'm heading the Primary years and looking at promoting wellness and Social emotional learning across the school (need of the hour)!
I grew up in Pondicherry, in a progressive school called Sri Aurobindo International Center of Education where I got interested in wellness as it was a big part of our curriculum! I am a lifelong learner and consider myself grateful to be able to have the freedom to grow and learn every day! My love for ayurveda and the deep wisdom of ancient India drew me to this wonderful course and I am really looking forward to spreading the knowledge of Ayurveda and becoming more aware of myself through this journey! I can't wait to tap into the magic and wonders of Ayurveda and truly live through this course more deeply! 
Through this course I am sure to impact wellness in its truest forms and promote it in a more holistic way back into the classrooms to the young budding changemakers - the students! Did you ever wonder what a powerful impact it would be, if children had access to the magic and wisdom of Ayurveda and learnt to live more in tune with themselves and really understand the science of life?
What if we did not have to wait long to comprehend and incorporate the truths of sustainable and holistic living right from an early age? I bet it would make all the difference!
I can't wait to demystify the truths of life and take my health into my hands and start my journey by tapping into my being with intention, joy, love and purpose and by spreading the knowledge and magic to the children and my community! I am so thankful and thrilled for this amazing opportunity, so grateful to the entire Shakti school team and of course to Katie Silcox for creating this school! If you are looking for an empowering course on Ayurveda, one that fits into the modern lifestyle and schedule, look no further, you've found the right place!"
Mylinda Ogundipe | Ohio | @the_worlds_linda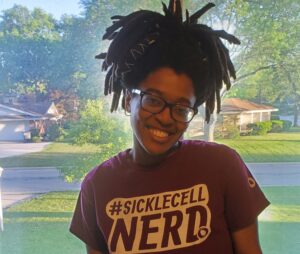 "My name is Mylinda Ogundipe and I live in Northwest Ohio with my husband and our daughter. I am currently a 200 hour certified yoga teacher, a mindfulness coach, and am in the process of becoming a yoga therapist. My interest in the health and wellness space was sparked by my desire to increase the health of my daughter, who was born with Sickle Cell Disease, an inherited blood disorder that causes organ damage as well as pain in various parts of the body. Our research into holistic support maintained that a healthy diet, yoga, and meditation could help manage this disease, so after a deep dive into yoga, I found Ayurveda. My initial interests in this program was to help my daughter and others living with Sickle Cell Disease. I still want to specialize in assisting those with Sickle Cell Disease, yet after being exposed to all the good that Ayurveda can do, I have expanded my focus to include individuals living with chronic pain in general. As a woman of color, I also believe that Ayurveda can serve as a protective factor against the disparities faced at all points of the motherhood journey, so I would like to expand my focus to help women of color along the path of motherhood. My ultimate goal would be to marry this Ayurvedic knowledge with yoga therapy in order to assist as many people in as many ways as possible. I know this Ayurvedic journey has just begun, and I am so very excited to learn more! Thank you so much for this scholarship opportunity!"
Michelle Murphy | Vancouver, BC, Canada | @puravedaa
"I spend my time homeschooling my 14yo daughter and we currently incorporate Ayurveda as part of our curriculum.  I am using Ayurveda to understand my own health challenges and hope to be able to utilize what I learn to address some long standing concerns. If I am able to assist others in a meaningful way, I will happily share this new found knowledge."
Lori | San Francisco, CA
"I was born and raised in the San Francisco Bay Area and pretty much have lived in California my whole life. I have over twenty years of a strong business background, and over twenty years of dedicated yoga practice. In 2015 I earned my certified yoga teacher training certificate of which I am very proud!
In 2006 my health and life veered, and in approx 2015, they took a hard left.
My doctor led me to Ayurveda last year, and I purchased Katie's HHS book and couldn't put it down. I happened to see the Shakti Ayurveda School was offering scholarships for 2023, and I applied last summer.
Last September I flew out of state for an appointment and left it with very low spirits. I was happily shocked to get back to my hotel room and receive Sarah's message that I had been awarded a scholarship for Shakti School. I was beside myself. I was so filled with gratitude, and in the midst of everything I'd been through, I felt like I'd gotten my first break. As great as I thought Shakti School was going to be, it's been so much more.
A few weeks into the curriculum, wondering if I would ever learn the words, I woke up in the very early am hours one day with Ayurvedic doshic language running through my head. It was all there, in the Ayurveda, the Rishis knew what they were talking about.
I'm not exactly sure how my Ayurveda education will manifest itself out there, but I have a feeling it's going to be much bigger than I'd even imagined. I'm already sharing what I've learned with others, and even "diagnosing" them ; ) And for this, I am so grateful again. : )"
LaToya Jones | Richmond, Virginia | @yoga_enchantress & www.rootedandcrowned.com
"Hi, I'm LaToya Maria! I am a therapeutic yoga teacher, feminine embodiment guide and wellbeing educator with an intentional focus on women's health. I'm the founder of Rooted & Crowned, a collective devoted to creating bespoke holistic wellness experiences for women. Known by many as an energy alchemist, I passionately guide women on a holistic journey into embodiment, liberation, and ease. My devotion to mindbody intimacy led me to yoga as a personal practice in 2015. In 2017 I took a sabbatical from work and traveled to India to study yoga philosophy where I completed my hatha yoga and meditation teacher training in Rishikesh, India. I have over 15 years of energy and movement-centered well-being expertise which contributed to the development of my signature style, Enchanted Flow- aimed at increasing reproductive health, honoring women's cyclical nature, and expanding innate wisdom to support overall well-being. After spending 10 years living outside of my home country, losing my job in 2020 and grieving my father's death in 2022, I found myself in deep need of care. I found my way back to Ayurveda through the comfort of food, rest and healing touch. I rediscovered Shakti School last year and felt a spark of light shine within me that said, "this is a practice that not only supports you, but the women and girls you hold space for." I intend to bring Ayurveda for the female form into my community in an accessible way. I envision myself facilitating workshops and retreats that can transform women across all socioeconomic statuses. Wellness and wellbeing isn't a luxury, it is our birthright! I am so grateful for this scholarship and to be a part of this community. I intend to move on to Level II next year."
Lisa Chan | Wales, UK | @shakti_lisa & lovelettersfromshaktilisa.wordpress.com
"Hi, my name is Lisa. I am absolutely thrilled and grateful for the opportunity to be part of the Women's Ayurveda Tantra Course Level 1 on a partial scholarship for the whole of 2023. I am an intuitive creatrix with the ability to feel and sense emotions from others and the collective. I am deeply passionate about personal development especially in the field of women's health on all levels. 
I have been on the spiritual path for the last 15 years which started due to major health challenges in dealing with chronic pain, which I was able to heal from but then returned in a different form in my body. It has given me the gift of going deeper into the healing heart space and to learn to trust this journey I'm on.
When I traveled to Kerala in 2017 it sparked my interest in Ayurveda. A year later I started my studies in naturopathic nutrition which I am still loving today. Now feels like the right time to bring Ayurveda into my life. Being part of the Shakti School this year will support me further with my studies knowing I am here to be part of the conversation of bringing back Ancient Wisdom for the Modern Age in the rise of the Divine Feminine and female empowerment. My areas of interest include spirituality, holistic health, nutrition, tantra and many other subjects that support us as women.
In following my path, I want to show other women that despite health challenges, when we learn to love and honour ourselves where we are we can create space and invitation for love, healing and empowerment that ripples out into the world, our lives and the Universe. It gives us the courage to step back into the remembrance of who we are."
Jenny Ebelke | Kansas City, Kansas
"Hi everyone! My name is Jenny Ebelke and I live in Kansas City, Kansas.  I am a retired Firefighter Paramedic and recently started teaching Emergency Medicine at a local University to chiropractic students.  I also teach students at a local community college the skills and assessments they will need to become First Responders,  EMTs, and Paramedics.  While I worked in the field, I didn't always take the best care of myself or my mental health.  After an injury forced me to retire from the field due to permanent deficits, I began a long journey of self-healing and self-love.  I have made leaps and bounds in the last 4.5 years since retiring and will be a life-long learner/practitioner of self-love, yoga, and Ayurveda. One of the things I accomplished that has helped me grow was becoming a Certified Life Coach helping others evaluate their lives based on 7 key areas to figure out where they are currently, and where they want to go.  The one category I'm most excited for is the "Fitness" category which includes all things mental and physical in regards to health. I'm completing my yoga instructor certification shortly and I am thoroughly LOVING Shakti School!  I have learned so much in these past few months and can't wait to incorporate my Ayurveda knowledge into my coaching career.  Thank you so much for this opportunity!!"
Aminah Thomas | New Orleans, Louisiana | @givinglifewellness & givinglifenutritionandwellness.com
"Greetings, my name is Aminah Thomas, and I have been certified as a Holistic Wellness Consultant and Yoga Instructor. In this life, I have the divine pleasure of guiding and raising four beautiful children. I am also blessed to have a magnificent husband to partner with on the amazing journey. 
I was introduced to Ayurveda through my yoga teacher training, and it quickly became one of my favorite parts of the course. The more I learned, the more I was called to learn more. How grateful am I that ayurveda has found me? Extremely grateful!!!!  Coupled with yoga, meditation and breathwork, ayurveda has changed how I interact with myself and the world.
My life story is filled with several synchronicities that have led me here, to The Shakti School. I am so honored that I have been gifted the opportunity to learn in this beautiful environment of loving and knowledgeable beings of wisdom.  It brings me so much joy knowing that I get to integrate the practices of ayurveda for my own healing, and ultimately, I will share what I have embodied with others so that they may create a healing space within themselves. I am here to absorb, embody and share. I see myself sharing Ayurveda with people in this world who look like me, and whose hearing connects with my words."
Cindy Ward Schrick | Minnesota, USA | @cindyward__ & www.cindyward.co
"My name is Cindy Ward Schrick and I live in St. Paul, Minnesota, my hometown. With a background in psychology, art and business I worked mostly abroad in Marketing and left it quite happily as my two boys were born just 17 months apart. After a traumatic end to a toxic marriage I repatriated back home. I first experienced Ayurveda during my divorce through a neighbor who taught at the European Academy of Ayurveda. I did an at home group cleanse with her and couldn't believe how incredibly nourished I felt at a time when I was completely depleted!
Upon returning home another traumatic event happened- my eldest son wasn't returned following a visit with his dad in Germany. I supported myself and my youngest son who was with me through the shock and traumatic loss. Mostly for my own healing and growth I did training in Breathwork. Once out on the other side I was fortunate to win several scholarships that enabled me to become a certified Co-active Coach and Relational Trauma Coach. I often work at the intersection of Coaching and trauma and know from my own experience that Ayurveda holds a life wisdom that is needed in our trauma infused world. I'm not sure exactly what it will look like but I know as I integrate Ayurveda in my own life there will be an integration with my coaching and ripple out to others. As I've studied Vedic spiritual teachings with Ayurvedic teacher Acharya Shunya, my heart has been tuned in to Katie and Shakti School's feminine form for years; so of course I was beyond happy dancing when Sarah shared that I had won a partial scholarship!! 
With love and gratitude to be here with all of you <3"
Gabriela Beatriz | Brisbane, Australia
"Hi, my name is Gabriela. I am originally from Brazil, currently living in Brisbane, Australia, and loving every second of Shakti School! I'm profoundly touched by these teachings and very grateful for this amazing opportunity.
Growing up I found myself many times longing for guidance, growth, wholeness, and healing from a community led by women. Unfortunately, modern life had made this yearning difficult because most women are disconnected from community and also from their own bodies and important rites of passage. 
So, my deep desire is to be able to create a space where women from different backgrounds can access the beautiful wisdom of this feminine form of Ayurveda taught in Shakti School. All women deserve to feel their best selves, safely supported by other women, and engaged in nourishing practices that help bring balance back into their lives.
Part of that desire also includes my fellow women back in South America, mainly in Brazil and Argentina. And, I would love to include other modalities that I am trained in, like Australian Bush Flower Essences, Saraswati Healing and Shakti Yoga. All a perfect complement to Ayurveda!
I'm forever grateful for Shakti School and its wonderful teachers. Ayurveda is about honouring the uniqueness of each individual and the knowledge and empowerment that comes with understanding our bodies and the environment is invaluable."
Continue Reading